Description
Price Headley's BigTrends Toolkit has been one of the most successful and popular add-ons released for MetaStock. This latest version, specially designed for stocks and options, gives you the tools to incorporate Price Headley's time-tested trend methodologies into your trading analysis.
Trading professionals have long known that the best trades come from the large trends. Price Headley has incorporated his over 30 years of experience in his new BigTrends Toolkit 3.0. With it, you can:
Define low-risk entry and exit points
Spot price accelerations
Get access to Price's proprietary techniques
Learn how to use indicators in ways you never thought possible
Version 3.0 features a retooling of the all the methods found in the original BigTrends toolkit. It also includes two brand new exclusive methodologies and Price's new BigTrends Score indicator in all methodologies. The BigTrends Score Indicator combines ten of Price's favorite metrics to give a bullish/bearish score of the instrument you are looking at. This new score has been incorporated into all the BigTrends systems giving you more power to identify the best opportunities.
Included Methods
Price's research is designed to look for stocks that have the best opportunities in the market. It specifically looks beyond just "mediocre and good" trades and focuses on the very best trades available. The result is the ability to find stocks that are moving efficiently into a trend and accelerating.
The BigTrends Toolkit 3.0 is massive. It includes 17 Expert Advisors, Explorations, and Systems Tests. Additionally, the toolkit includes a total of 18 indicators and 14 predefined templates. it also includes a 75-page manual that details how to implement the methods.
The 17 Methodologies included with BigTrend Toolkit are:
80 Day Bollinger Bands
Acceleration Bands + Bollinger Bands
Acceleration Bands
BigTrends Score
BigTrends Score Breakdown
DMI Difference
Efficiency Ratio
Force Index (Long Term)
Force Index (Short Term)
Momentum Divergence
NASDAQ Vs. SP 500
Options Shark
Percentage above 200-day MA
Percentage above 400-day MA
Stochastics Confirmation
Williams %R Retest Systems
Williams %R System
Identify Big Opportunities
The BigTrends Toolkit 3.0 includes integration into the MetaStock Explorer. This means you will be able to scan through thousands of instruments and weed out all the stocks that don't have an immediate actionable opportunity. With the addition of the new BigTrend Score, you will be able to instantly sort to find the most bullish or bearish opportunities now.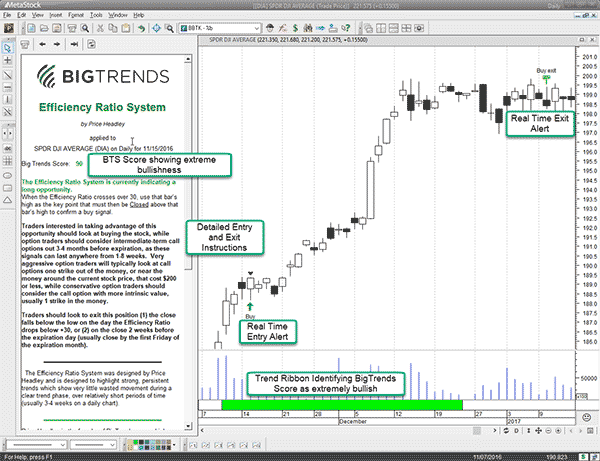 Expert Analysis delivered every time the market changes
With BigTrends methodologies, every time the market changes you will get recommended Buy/Sell signals, specific entry and exit instructions, and real-time alerts within MetaStock. In addition, Price Headley created in-depth detailed commentary that you can attach to any chart to get specific entry and exit recommendations.
For options traders, these include specific details on what expirations, deltas, and strikes you should evaluate.

Determine the best methods for you
When used with the MetaStock System Tester, all 17 BigTrend methods can be tested with historical data. This will aid you in identifying which ones work best in your trading. It will also identify which instruments these methods work best with. The detailed reports will give complete drawdowns, profitability, trade lengths, risk reward, and much more.
Experts Explorations and Tests:
80 Day Bollinger Bands
Acceleration Bands + Bollinger Bands
Acceleration Bands
BigTrends Score
BigTrends Score Breakdown (only available as an expert)
DMI Difference
Efficiency Ratio
Force Index (Long Term)
Force Index (Short Term)
Momentum Divergence
NASDAQ Vs. SP 500
Options Shark
Percentage above 200-day MA
Percentage above 400-day MA
Stochastics Confirmation
Williams %R Retest Systems
Williams %R System
Templates
Acceleration Bands 20
Acceleration Bands 80
BigTrends Score
BigTrends Band System
Bollinger Band 80 System
DMI Difference
Efficiency Ratio
Force Index
Force Index Long Term
Momentum Divergence
Nasdaq Relative Strength System
Options Shark
Percentage Above 200 Day
Stochastics Confirmation
Indicators:
Acceleration Bands 20
Acceleration Bands 80
BigTrends Bands
BigTrends Score
DMI Difference
Efficiency Ratio
Force Index (Long – Term)
Force Index (Short – Term)
Line at Cross of 2 times 200-day MA
Momentum Divergence:Close %
Momentum Divergence:MACD Momentum %
NASDAQ Relative Strength vs SPX
Percent R
Percent R 2 days ago
Percent R Yesterday
Percentage above 200-day MA
Percentage Above 400-day MA
Stochastics